Latest News & Events
CTE Success Story (Interns 2014) - Certified Technical Experts, Inc.
---
2014 Summer CTE Interns
---
Certified Technical Experts, Inc. is a certified 8(a) Technology Consulting firm located in Montgomery, AL. CTE conducted a summer internship to a group of creative young individuals. The selected interns were students of Robert E. Lee High, Carver High, Trinity Presbyterian High, Jefferson Davis High and Alabama A & M University.
Interns gained knowledge and understanding of the workforce, technology, and team building by shadowing a member of each department at CTE. Throughout the program, the interns had a chance to create and present their work before an audience of faculty members, training instructors, chief officers, accountants and other local entrepreneurs.
The interns were also offered an opportunity to participate in the CompTia A+ course. The training class was offered in CTE's lab, which is a certified Pearson Vue Testing Center. Upon completion of the class, the interns had the option of testing for their certification onsite.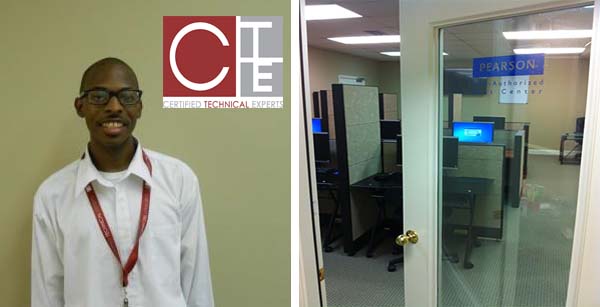 Cornelius Warmack, a student of Alabama State University, participated in CTE's internship program and also participated in the A+ course training class. Warmack successfully completed the exam and obtained his certification through the program. This exemplifies CTE's way forward by exposing our youth to a positive environment that provide lifelong technical and professional skills. Mr. Warkmack was the first participant of the CTE and Alabama State University (ASU) collaboration and partnership effort to help students transition from coursework to their career.
Latest News & Events